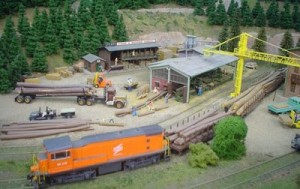 "I work as an actor and this scene commemorates a TV serial in which I played the lead, shot in 1990. I was the owner of the plantation as well as the sawmill, etc. The rear of the pic features a felled area where just the tree stumps and branch debris remain. To the right and above that you can discern a firebreak."
Frank from South Africa has kindly sent in these photos for publication. Here is Frank's story:
I am a 65 year old South African living in Durban on the east coast and have been involved in this fascinating hobby for 19 years. I should have, would have, started earlier but was convinced I couldn't do it but only then realised what a superb support group we had in this city at the time.My layout is very large; it occupies 3 rooms in the apartment I purchased in 1991 opposite the one I live in. The track plan is relatively simple but I designed it so got what I wanted.
The scenery is "generic" as I run American trains, Continental trains and South African trains … just never at the same time. I am not a "rivet-counter" and as long as what I see pleases me, that's fine.Th emphasis is on fine detail and developing that has given me a lot of pleasure. I now append a few photographs and hope that you find them pleasing to your eye.
"The beach resort of Uvongo some 140km south of Durban inspired this scene: a waterfall at rear with a river running into a lagoon with a peninsular beach on one side. I replaced the very boring road bridge with a dressed stone double mainline bridge, as well as a high trestle carrying one of the layout's two branchlines, this one leading to the plantation, sawmill, lumber storage facility and furniture factory."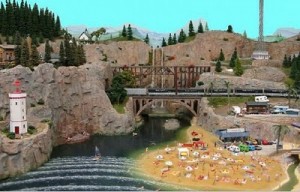 I have four of these beautiful Class 23s as I love them to bits, especially the look that the smoke deflectors give/gave them. With tender they weighed about 185 tons and although their drivers are only 5′ in diameter, they could and did thrash through the Western Transvaal and the Karoo at over 130km/h. Impressive for 3'6″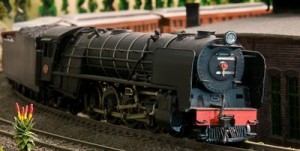 The Industrial area east of the city of Douglas. There are an even dozen factories and warehouses etc. here, each served by at least one siding. The container terminal has 5. They're pretty short, but they're there!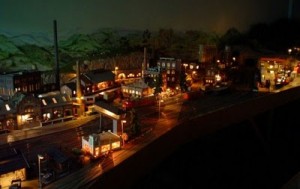 The four-track tunnel portal linking two rooms in the apartment. This junction is one of a few on the layout where all four mainlines come together. Featured here are South African trains: two 5E electric units in charge of South Africa's famed Blue train (this is the pre-1972 version and you're seeing 4 of the rake of 12 coaches); to the right of it is a Class 36 diesel hauling a petrol tanker train; while a main line passenger train drifts downgrade behind a massive Class 23 steam loco. One must remember that while these locos were every bit as big as their British and European counterparts, they ran on 3'6″ gauge, not the world standard of 4'8½".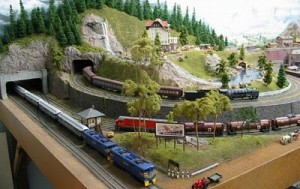 One Response to "Amazing South African Layout"